Automation in the welding industry has been a growing trend since the 70's. There has been an increase in demand from end-user industries and market growth continues to be on the upswing. These demands have been supported by the continued advancements in technology and R&D surrounding both automation and welding.
As we move into the New Year, we thought it would be worthwhile to review 5 trends in automatic and semi-automatic welding from our perspective.
Trend #1: Welding Safety Enhancements
Safety should always be number 1!  While this is not a new trend, fabricators will continue to take steps to keep workers safe. Without the proper safety precautions, automated welding can be dangerous. Here are just a few of the most common hazards:
Exposure to Gases & Fumes
Physical Hazards such as burns, eye damage, cuts, etc..
Electric Shock
Fire & Explosions
To improve the safety surrounding automated welding, we've seen more and more adoption of interlocking perimeter guards, safety light curtains, laser scanners, sensors, pressure-sensitive safety mats, high-quality gear, auto doors, better smoke extraction systems and more!
Trend #2: Labor Shortage Issues
There's been a lot of discussion around the welder shortage in the United States—it's estimated that there will be a deficiency of over 400,000 skilled welders by 2024. This is an extremely challenging hurdle for manufacturers looking to expand and fill demands. At Bancroft Engineering, we understand what an asset welders are to our economy and the importance of education for the younger generation.
Trend #3: Automation Technology Growth
New technology will continue to emerge as we move into 2021.  New tools and technologies that will see growth include:
Power Sources
Digital Control Systems
Welding Management Software
Seam Tracking Systems
Gas Control Devices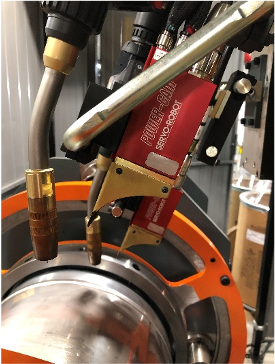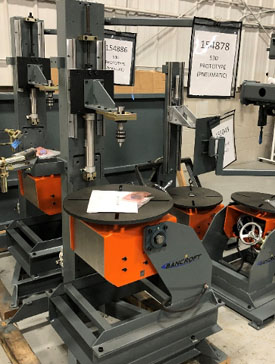 Automated Welding Positioner Prototypes
The team at Bancroft Engineering has been hard at work implementing new technology for all of our customized and standard semi-automated welding equipment. Stay tuned for the release of a new automated welding positioner and seam tracking systems coming later this year!
Trend #4: Rise of Collaborative Welding Systems
The welding industry will continue to embrace collaborative systems to compensate for the increasing skilled labor shortage in 2021. Collaborative welding systems are designed to share a workspace with humans—creating a safe and seamless automation environment.  This is one of the latest big trends in automated welding as it can be deployed easily, used for a variety of welding applications and are affordable compared to large robotic systems.
Trend #5: Adaptive Control Advancements
For those looking to improve their automated welding operation in 2021, adaptative controls are high on the list.  Adaptative control are used to analyze welding data in order to make corrections and improvements based on the results. These corrections are made automatically to the weld current—in real-time. This data is critical for improved quality and process optimization.
The Future of Automated Welding
With the use of new and improved welding technology, there are many opportunities to increase productivity and uncover time and cost savings. Technology advancements can help you address critical welding challenges which will allow you to stay competitive!  If you're looking to adopt automated welding or make an upgrade, our team of trusted engineers are here to help you select the best equipment that will have the most impact on your business and bottom line.