How to Determine if Tactile Seam Tracking is Right for You
Since the 1960's, seam tracking systems have been used in many types of welding applications from GMAW, FCAW and SAW. This technology has advanced greatly in the past few decades to align with modern welding applications and equipment. These systems are commonly used with seam Welding, cladding (surfacing), long welds or for parts that may not have the best fit up. Tactile seam tracking systems are also flexible, making them an appealing way to improve welding processes across all sorts of part sizes and geometries.
Interested in learning more about selecting seam tracking solutions? Check out this blog post.
How to Choose a Tactile Seam Tracking System
There are two main types of tactile seam tracking systems—basic and advanced. In order to make the appropriate selection, it's important to understand the specifics of your seam welding application with the following:
#1: Establish the Payload Requirement
You'll want to pick a system that has a higher rating that what you require. This will allow for a longer life of the system and less maintenance.
#2: Determine the Travel Stroke Length needed for the Cross Slide
You'll find that selecting a seam tracking system is much easier once you measure the needed travel stroke length of each axis. It is critical to know which type of cross slide you will need.
#3: Select the Automation Type
Determine whether you'll be using a fully automated system or semi-automated welding equipment. Fully automated, or robotic systems, will require an advanced seam tracking system, whereas you can get away with more basic models with semi-automatic welding machines.
# 4: Decide on a Sensor Tip
Select a sensor tip that matches with the seam type and the material thickness of your application.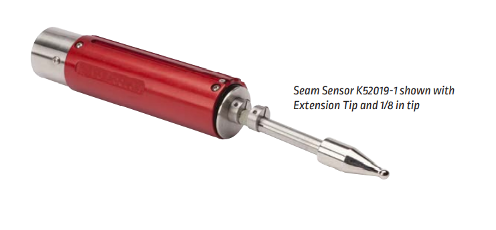 How to Know if Tactile Seam Tracking is Right for You
Seam tracking systems are ideal for repetitive applications—this is where you'll reap most of the system's benefits! If you're still unsure if your projects are good contenders for tactical seam tracking, here is a quick guide to help. If any of the below statements sound like your situation, adding a seam tracking system could offer significant value to your current welding process:
My parts have the same basic shape with similar seam configurations.
My parts are similar and only vary in size.
My welding applications are repetitive in nature
For circumferential welding projects, my operators manually weld both end-caps
For beam fabrication, my operators manually position and weld throughout the length of the part.
The seam configuration of my parts are lap joint, v-groove or fillet (single or multi-pass).
There is an array of options when it comes to selecting features for your seam tracking system that you may want to think about for your welding process:
Manual & Automatic modes
Joystick Control
Right or Left Sidetracking
Overlap Timers
Tack Cut off
Z-Search
Retract timers
Cut-off modes
Crater fill delays
Welding timers
Always keep in mind that the seam tracking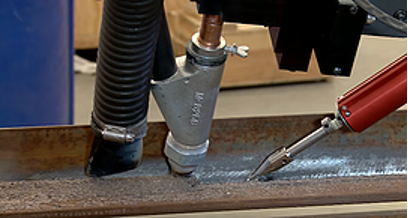 probes will eventually reach the end or the start of your weld if on a cylinder and that the probe will detect that before the weld gets to that point. Some of these features and options may help with this, like using a timer to turn off the probe for the last few inches of your weld so it can finish the cycle.
Seam Welding Professionals
The team at Bancroft Engineering can help you select the right seam tracking system to precisely control the torch-to-part relationship during the welding process! We aim to simplify your welding operation to ensure the weld head is constantly positioned for optimal arc performance. Have questions about your applications? Get in touch!